2023 Golden Balangay Winners

Educational Excellence Award (Post-Secondary)
Leo Macawile (ON)
Leo has demonstrated outstanding leadership, unparallel extra-curricular involvement, and excellent academic achievements throughout his post-secondary journey. He has been awarded several honours and awards at his time at York University for his commitment to academic excellence. Leo currently serves at all levels in departmental, institutional, and provincial capacity. While being the current President of the Nursing Student Association at York, he has shown leadership through founding various groups and initiating or helping out in various high-profile initiatives. He takes these opportunities to advocate and create a more equitable, inclusive, and diverse space for York students and Ontario nursing students. He does all this to honour his mother, who raised him and siblings as a single parent. His mother's sacrifices and experiences sparked his passion for social equity and inclusivity of Filipinos in leadership spaces.
Educator of the Year
Jimmy Gigante Buena (AB)
When Dr. Jimmy Buena first came to Canada, he worked as a server at Denny's. With courage and determination in his heart, he enrolled and graduated from the Internationally Educated Program (a Bridging program) at the University of Alberta. Soon enough, he was hired at Sister Annata Brockman Catholic School, where he spends his days teaching children about the Filipino language and culture. He has received positive reactions from both his students, their parents, and the community, that he was asked to make his program an annual activity. In his spare time, he dedicates his time to tutoring students in other subjects – free of charge. Dr. Jimmy Buena also gives back to the community by helping in the Zebra foundation Child Protection Center, leading clean-up drives, and initiating the School Supply Drive for Fabian De Mesa Elementary school in Masbate, Philippines. Dr. Jimmy is patient, loving, hardworking and humble. He is an epitome of what an educator should be.
Young Leader of the Year Award
Ira Mamis (YT)
Originally born in the Philippines, Ira Mamis is a 1.6 generation Filipina-Canadian living in the traditional territory of the Kwanlin Dun First Nations and Taan Kwachan Council, also known as Whitehorse, Yukon. Ira is an active member in her community and sits on various organizations and platforms that amplify youth voices; advocate for remote, rural and northern communities; and speak about the current realities and challenges faced by the immigrant; refugee; and newcomer populations in Canada. In July 2021, Ira was one of 10 handpicked active members on Prime Minister Justin Trudeau's Youth Council, and serves as the very first filipina ever chosen to sit on the PMYC. During the pandemic, Ira spearheaded the creation of YukonFilCanYouth, a group established for young Filipino-Canadians living in the Yukon and the North. The vision was to provide and share resources and support, provide an educational and learning platform for youth to connect with their culture, and unite and empower young Filipinos in the North. Her efforts to bridge the gap and connect Yukon and Yukon Filipino youth with the rest of Canada still ring true to date.
Entrepreneur of the Year Award
Limuel Vilela and Alvin Francia (AB)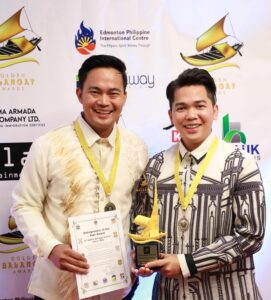 Spotlight Couronne Internationale (SCI) Training and Production, is a training capital and company based in Calgary, AB. For the last 7 years, they have helped hundreds of Filipinos of all ages through their personal development, model training, and confidence-boosting platforms. What differentiates SCI is that there is no other Filipino-founded organization that has the background and expertise of founders Limuel Vilela and Alvin Francia. With 7 years of operation, Spotlight Couronne Internationale continues to be the leader in model training, runway training, personal self development, confidence courses, pageant training and now clothing and accessory manufacturing.
Business Excellence Award
Premium Healthcare Provider (ON) – Bernard Garcia
Premium Healthcare Providers has actively provided aid during the pandemic in all healthcare sectors, from transportation to staffing. They helped in transporting covid patients from Pearson Airport and Billy Bishop airport to their respective isolation sites. They were involved with Mass Vaccination Centres, swabbing clients in Major Airports of Ontario that are arriving and departing of the country, as well as helping the crisis in Ontario in all healthcare sectors in supplying Director of Care, Nurses, Pew, Chefs, Servers, environmental services, swabbers, medic and more. PHP was featured in Omni NEws, TFC, CBC News and many more for their contributions during the peak of COVID-19. They also won the Provincial Bid in catering Nurses and PSW in more than 20 Hospitals in Ontario this 2022-2026. Currently, our company has a population of 1500 staff members and is still in need of 2500 to be able to sustain the needs of our clients. We are also entering the non- healthcare field by February 2023 to expand our company and take it to the next level.
Excellence Award in Arts and Culture
Mila Bonco-Philipzig (AB)
Mila Bongco has been a passionate promoter of Philippine culture in both the community and academic spheres for 38 years. She is a talented and much published writer, translator, polyglot, visual artist, mentor, and public speaker. She writes about the experiences of Filipino immigrants and migrant workers, as well as Philippine cultural traditions. Mila is a strong advocate for equity in the arts and has successfully won multicultural and anti-racism grants. Mila's real gift lies in using her talents as a community builder where she has provided many workshops and mentorships to emerging writers, illustrators, heritage language teachers, and other community groups. Mila exemplifies a well-rounded artist achieving excellence in the arts with a focus on promoting Philippine culture and history, while continuously connecting with multicultural communities in Edmonton and across Canada to achieve equity and inclusion.
Executive of the Year Award
Jerry Caingcoy (AB)
He came to Canada armed with executive leadership experience in sales, marketing, training, education, and corporate management from both local and multinational companies in the Philippines. In Canada, he started as a Clerk. He then transferred to different departments with progressive roles at The City of Calgary. From an entry-level job he was promoted to the Finance Leader position at The City of Calgary in 2020. His division is responsible for managing a multi-million-dollar general revenue supporting multiple business units across the corporation. Jerry is one of the most respected community leaders in the Filipino Canadian community in Alberta and beyond. He hosted a TV show which interviewed personalities and leaders in the community, hosted community events and participated in community forums. He has also written articles published in local newspapers and other media platforms. Jerry can influence individuals on all walks of life.
Excellence Award in Music and Entertainment
Hazel Wallace (MB)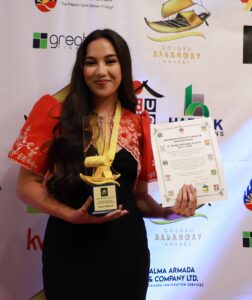 Hazel Wallace is a Classical Voice major at the University of Manitoba, an actress on screen and off stage, and a producer, creator and writer on the new Manitoban sit-com "Maria and the Mennos". Hazel has always wanted to pursue a career in the music and entertainment industry. However, the lack of Filipino representation on stage and on screen was disappointing and discouraging. She took on a leadership role and decided to dive head first into her culture and learn how she can inspire and encourage others to do the same. Hazel now studies Kundiman at school and is introducing to her professors the beautiful sounds of Filipino Art Song. Furthermore, Hazel is consistently working as an actor on stage and on screen. Additionally, she is producing a new Filipino/Mennonite tv show where she prioritizes creating more opportunities for Filipinos in the Film Industry. Her show "Maria and the Mennos" includes a strong Filipina lead who was not following a traditional career path (Maria is a Fashion Designer). Hazel is an emerging talent who inspires others and is a great example of Filipina excellence.
Senior Achievement Award
Zenaida Kharroubi (QC)
Zenaida has accomplished many things in her life. Two of her most prominent contributions to her local communities are the North American Filipino Star and Gilmore College International. Since 1998, Zenaida has been publishing monthly issues of the North American Filipino Star as the Chief Editor and Publisher. She was the one who revived the paper and made it profitable and financially stable. In 1989, she founded Gilmore College International, the first Filipino Canadian private college in Quebec. She teaches Filipino, English, French, as well as accounting and computer courses. Zenaida is also a producer, where she created 59 episodes of community television shows under the name of Mabuhay Montreal TV from 2013 to 2016. The show is still running under the name "Pinoy Pa Rin" with Zenaida listed as an associate producer.
Manggagawang Pilipino Of The Year Award
Rodolfo Lastimosa (ON)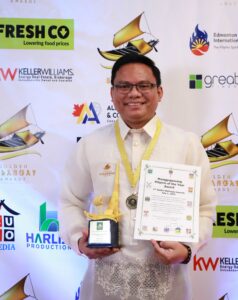 Rodolfo is a registered nurse at Humber River Hospital. However before that, he worked as a caregiver. In 2015, he successfully completed the Ontario Internationally Educated Physical Therapy Bridging Program at U of T, where he was the Class President. Throughout his career, he volunteered on different medical missions to help the underprivileged. In 2020, he graduated and acquired his RN degree from York University. He was actively involved in many nursing organizations like NSAY and President of the Nursing Students of Ontario of the RNAO. Rodolfo is an advocate for healthy professional environments and quality nursing education necessary for safe patient care. In his 11 year journey to becoming an RN in Canada, Rodolfo has made numerous contributions every step of the way.
Most Influencial Community Organization of the Year
Filipino Canadian Saranay Association of Alberta (AB)
SARANAY is a Filipino maxim, which means "to help and to serve others". Our association welcomes all nationalities, not only Filipinos, who share deeply rooted values of caring, and compassion for our fellowmen. The Filipino-Canadian Saranay Association has proven its ability to build capacity and sustainability in the areas of volunteerism, education, music and performing arts through youth and adult programs. 
Community Service Award
Marjorie Newman (AB)
Many will say that Marjorie Carmona Newman is the most influential Filipino-Canadian among the Filipino leaders in Edmonton. She is the most sought after Filipino-Canadian guest in every Filipino gathering, all-year round. Marjorie has been involved in almost every Filipino association in Edmonton. She founded the Nasipitnons Association in Edmonton; organized the Heritage Festival and Independence Day celebrations in 2020 for Council of Edmonton Filipino (CEFA); initiated the fundraising events in CEFA and Philippine Business Society of Alberta (PBSA) for the typhoon victims in the Philippines. As a practicing Immigration Consultant, she has helped thousands of our Kababayans study, find work and unify their families here in Canada. For those who cannot afford to pay her service charge, she renders it pro bono- free of charge. Marjorie's diplomacy, charismatic personality and networking skills are impressive. She facilitated the release of various government grants for some Filipino associations that had helped many of our kababayans alleviate their sufferings during the pandemic. Marjorie received various citations and awards because of her tremendous community involvement.
Pinoy of the Year  Award
Antonio Flores (AB)
Tony Flores has been a world-class competitive para-athlete for 23 years. He has represented Canada, competing and winning in international competitions, not only in one but in three sports: wheelchair racing, paracanoe, and paraskiing. Tony is the only para-athletes of Philippine-descent who has competed at the international level for Canada. He has served as a Director General for the Whang Youn Dai Achievement Award for nine (9) International Paralympic Committees. Tony Flores has long promoted the rights of all people, and brought that passion to his new role as Alberta's first disability advocate.
GBA Lifetime Achievement Award
Dr. Eileen De Villa (ON)
Dr. Eileen de Villa is the Medical Officer of Health for the City of Toronto. In this position, she leads Toronto Public Health, the largest local public health agency in Canada, which offers various programs and services to the city's nearly 3 million residents.
Dr. de Villa received her Doctor of Medicine and Master of Health Science (MHSc) degree in Health Promotion from the University of Toronto. Additionally, she holds a Master of Business Administration from the Schulich School of Business at York University. She is also an Adjunct Professor at the Dalla Lana School of Public Health, University of Toronto.
As the Medical Officer of Health, Dr. de Villa has been at the forefront of public health efforts in Toronto, including guiding the largest immunization campaign in Toronto's history. She has also advised political leaders, on implementing municipal government measures such as declaring a state of emergency and introducing local by-laws related to physical distancing and mask usage, all aimed at curbing the transmission of COVID-19. Dr. de Villa's unwavering dedication to guiding Toronto through the pandemic has been evident in her tireless efforts to equip residents with the necessary tools and information to safeguard themselves and their communities. Dr. de Villa maintains a pivotal advisory role in the City and Province's ongoing COVID-19 response and recovery.
GBA Lifetime Achievement Award
Jun Angeles (AB)
Jun Angeles hails from the quaint town of Lopez, Quezon, in the Philippines. He finished elementary with honors, graduated Salutatorian in high school, and graduated Cum Laude from the University of Sto. Tomas with a degree in Foreign Service in 1968.
In June of the following year, he immigrated to Canada's festival city of Edmonton. Jun continued pursuing further education in business and finance. Like any other immigrant, he worked hard to establish his own business – Overseas Travel & Recruitment Agency, Angeles & Associated Financial Services, and the Alberta Filipino Journal.
Aside from being a distinguished member of various business and financial organizations, he also received distinguished recognitions, such as Qualifying and Lifetime Member of the Million Dollar Round Table. Add to that numerous company awards, recognitions, and speaking engagements in conferences and seminars.
In terms of community service, the list goes on. Jun founded organizations like the Quezonian Club of Edmonton, Filipino Seniors Association in Alberta, Filipino Retirees Association in Alberta. He chaired various organizations – Congress of the Philippine Associations of Alberta, the Council of Filipino Associations, and the Regional Songfest for Alberta & Saskatchewan. He is also a member of these organizations – Knights of Rizal Edmonton, Philippine Bayanihan Association in Alberta, Political Action Group in Alberta, Philippine Centennial Movement, Dr. Lejano Foundation, Filipino Radio Enthusiasts of Edmonton, and Knights of Columbus.
All his community work and accomplishment did not go unnoticed. Thus, he gained all these recognition and awards –  Dangal Filipino's Outstanding Filipino Field of Business (1979), First Filipino Pioneer (1995), Hiyan Gem Award Outstanding Filipino Businessman (1998), 2004 Most Outstanding Filipino Canadian (2004), and the Alberta Centennial Medal (2005). Add to that all the appreciation from various organizations he established and events he supported over the years.
Jun is married to the late Hermie Atizado Angeles. Jun & Hermie were blessed with three children – Michael Jason, Mark Joseph, and Melanie Rose – who are successful in their chosen careers. 
Jun is the President & Managing Director of the Angeles & Associates Financial Services. He is also the publisher of the oldest Filipino newspaper in Alberta, the Alberta Filipino Journal.
GBA Lifetime Achievement Award (Posthumous)
Teresita Pajarillo Oliva (AB)
Teresita Oliva's accomplishment reflects a mixture of the talented, enthusiastic, energetic, and very capable person she is. Her accomplishments reflect a mixture of the academic, the nursing professional, the committed individual dedicated to a lifetime of community service, and finally, a composite of all three.
Tessie holds a Bachelor's degree in Nursing in the Philippines, and a Master's degree in Administration, Health Services Specialization in Canada.
She has been recognized and awarded by the Government of the Philippines, the multicultural community in Edmonton, and the Government of Alberta for her leadership role in the Filipino community and Multicultural Commission activities.
In 1977, Tessie Oliva founded the Filipino Nurses Association with support from the Alberta Association of Registered Nurses (now the College and Association of Registered Nurses in Alberta), to "provide opportunity for members to reach their potential, to encourage personal responsibility and to help nurses of Filipino origin". Its goal was to support all Filipino immigrants with health professional backgrounds to adjust and adapt to their new workplace and homeland. 
Tessie was involved with the City of Edmonton/City Council Team in the development of a policy for immigration and settlement adopted in 2007. The first city in Canada to develop such a policy.
She became the President of the City of Edmonton Multicultural Coalition in Health and Wellness. She was a member of the Leadership Team for Capacity Canada and the Practice Review Committee for College Association of Registered Nurses in Alberta. Tessie was a Past President of the Council of Edmonton Filipino Association, a Board Member of the Edmonton Heritage Festival Association, and Past President of the Philippine Bayanihan Association of Alberta.
Caption for the picture:
You can learn more about Tessie Oliva in the Human History Wall of the Royal Alberta Museum