2018 Golden Balangay Winners
Educational Excellence Award (Post-Secondary)
Marissa Bumanlag graduated from the University of Windsor with Honours with Distinction in Political Science,. She was able to stay on the university's honour roll in her undergraduate degree and was recognized as a finalist for the President's Medal. She placed second in a school wide research contest for barriers, and was given the Student Life & Dedication Award upon graduation. Marissa has completed a multitude of contributions in her university career. She works at Sylvan Learning as the Lead Educator in which she is responsible for modifying and teaching curriculum for students from the ages of 6-18 years old who have fallen behind in their educational studies. In addition to this, Marissa is also a Research Associate at Workforce Windsor-Essex where she compiled and presented data of over 5,000 newcomers' skill sets in Windsor-Essex County to businesses to raise awareness so that the newcomers may find a job after moving to Canada. Aside from her research, she worked at the Faculty of Arts, Humanities, & Social Sciences at the university where she was the Academic Projects Coordinator. This is where student success was promoted on campus through an inspirational video series titled FAHS Some Talks in hopes to reduce the amount of students on academic probation. She also maintains numerous positions in the community such as the Director of Development for the Addolorata De Luca Leadership Scholarship, the Assistant for the Volunteer Internship Program, the Co-President for Engineers Without Borders Windsor, the Senior Mentor for the Mentorship and Learning Program and as a Contributor for Oxford University Press.
Educator of the Year Award
Ethel Tungohan is the Canada Research Chair in Canadian Migration Policy, Impacts and Activism, and Assistant Professor of Politics and Social Science at York University. She has also been appointed as a Broadbent Institute Fellow. Previously, she was the Grant Notley Postdoctoral Fellow at the University of Alberta's Department of Political Science. She received her doctoral degree in Political Science and Women and Gender Studies from the University of Toronto. Her research looks at migrant labor, specifically assessing migrant activism. Her forthcoming book, "From the Politics of Everyday Resistance to the Politics from Below," which will be published by the University of Illinois Press, won the 2014 National Women's Studies Association First Book Prize. Her work has been published in academic journals such as the International Feminist Journal of Politics, Politics, Groups, and Identities, and Canadian Ethnic Studies. She is also one of the editors of "Filipinos in Canada: Disturbing Invisibility," which was published by the University of Toronto Press in 2012. Dr. Tungohan specializes in socially engaged research and is actively involved in grassroots migrant organizations such as Gabriela-Ontario and Migrante-Canada.
IKUBO MEDIA Young Leader of the Year Award
Loizza Aquino has been involved in social activism since 5th grade when she spearheaded her first fundraiser for victims of Typhoon Ondoy. She raised $600 and boxes filled with food items, toiletries, and clothing, which was sent over to the Philippines. Loizza has been speaking at schools since 2009 sharing her story about the ability and power young people have to make a difference in the world. Loizza was in 10th grade, when she lost one of her best friends to suicide, leading her to create her own non-profit organization called Peace of Mind (POM). She decided to take the pain and transform it into passion to honor those we've lost and those struggling in silence. POM holds events, where hundreds of students come together to spark conversation. It's been evident that her work has strengthened others through the increase of conversation at YAMHIS, schools, and on social media. Schools across Manitoba have created their own POM groups to erase the stigma within their school environment. She tirelessly works to starts new projects to create social change, and to get youth to join her. At only 18, Loizza uses her contacts from the government, radio/TV, schools, and organizations to bring everybody together to create a positive impact. Her most recent event in Manitoba had almost 700 students and was funded by the Government of Manitoba. Loizza's events have helped students quit self-harm, get help, increased mental health clubs and awareness/conversation within schools, and even saved lives. During the 2017-2018 school year, Loizza expanded her POM from Winnipeg to Toronto.
WFG Young Entrepreneur of the Year Award
Josh first opened Throne Barbershop in 2013 together with partners Brian Lat & Christian Reventar, who passed away 2 weeks after they opened their shop. They have now become part of Toronto's culture. They get visits from all walks of life, different cities, and different countries. In just a few years, the owners have taken Throne from an overlooked, dingy basement outfit to a thriving shop that caters to everyone from students to stars. There are 13 employees, seven of whom are full-time. Today they see Throne as "The People's Shop."
Entrepreneur of the Year Award
JANE MANALANG PAGUIAO (ON)
Jane Manalang Paguiao, is the franchise owner of Chick-N-Joy, which opened in April 2013. CHICK-N-JOY™ started in the United States in the early 1960's and was established in Canada on 1969. Jane opened another Filipino restaurant in Ajax named, Estacion, in April 2016. Estacion offers hot food everyday, party trays, events catering, money remittance and Filipino groceries. The restaurant caters to different backgrounds, not just Filipinos in Durham Region. It serves as the Pinoy hub in Durham Region since they are situated where mostly Filipino lives in Durham which is Ajax. Currently, both Chick-N-Joy and Estacion are still operational.
PCCT Business Excellence Award
FV Foods is considered the no. 1 Filipino bakeshop. "There is definitely no place like home." That is the mission of FV Foods-to bring you quality sweets, breads and pastries that caters to your distinctive taste that makes you feel at home. After all, the homesickness and cravings of fellow Filipinos started this wonderful business. The thoughtfulness of bringing pasalubong (treats) to your loved ones is an undeniable trademark of our heritage that stands out in our multicultural community. And who is more capable of delivering you these delights other than the man who specialized in the "Sweets and Pasalubong" industry of Quezon province- Melchor Galeon. He is the former president of the Sariaya Tourism Council and proprietor of the very famous Galeon's Bakery and House of Pasalubong. Paired with the diligence, leadership and zest for business of Flor Vendiola, FV Foods prospered in their endeavors. From their humble beginnings in year 2000 to their expansion in December 2001, they continue to innovate and improve their products and services. FV Foods is a member of the Bakers Association of Canada and supplies to over 30 stores in Southern Ontario and Winnipeg.
Manggagawang Pilipino of the Year Award
Janeth Valenciano considers receiving VHA Home Healthcare's highest award, the Client Choice Award, as her greatest achievement. The award recognizes outstanding performance by workers, and they must be nominated by the workers' clients. She was one of the awardees chosen over 300 other nominees, and was nominated by the aforementioned alternative school that she works for. She was chosen due to the dedicated work she takes on, often always trying to go the extra mile for the sake of caring for the kids and helping her co-workers by taking initiative and doing more than required. She has also been praised for being very logical, calm, and rational in her decision making when it comes to urgency, as well as always taking the leadership role and helping out new nurses. She is known for cooperating with clients very wholeheartedly and always being ready and prepared to provide what they need. She treats them with the utmost compassion, equality, care, and hospitality, and, again, always does what's more than necessary to help them and make them happy. Her spirit of work is so strong that even the Tory family still remembers the effort and dedication my mother put into her care. She also has been nominated twice for the Toronto Star Florence Nightingale award.
Excellence Award in Arts and Culture
Ma. ELEANOR MESCALLADO-KALASH (ON)
Ma. Eleanor "Eno" Mescallado – Kalash is a quintessential master artist of Philippine folk dance. Her artistry had its auspicious beginning at the very young age of fourteen when she passed the rigid audition as a dancer of the world-class Bayanihan Philippine National Dance Company. Soon thereafter, she was elevated to soloist stature based on her impressive dancing skills and diligence. Her long tenure with Bayanihan spanning three decades saw her development in various facets of dance. Her expansive roles ranged from being a trainor, researcher, choreographer, dance director, and tour group leader. She has travelled far and wide to over forty countries on five continents. With Bayanihan, she has represented the Philippines as an Ambassador of Goodwill on official government cultural missions. Most significant of these 1976. She feels distinctly honoured in having collaborated with three Philippine National Artists: Dr. Lucrecia Urtula (Dance), Mr. Ramon Obusan (Dance) and Dr. Lucrecia Kasilag (Music). She has also engaged in synergetic projects with other notable dance directors, choreographers and dance troupes. While Philippine folkdancing may be considered her forte, she is well-versed in dance genres covering a broad spectrum from traditional to contemporary. She took up specialized advanced trainings in the United Kingdom and France. Ms. Mescallado has always been guided by what she refers to as the "ABC" principles – "A" for Artistic integrity; "B" for Bravura performance; and "C" for Commitment to excellence. She also firmly believes that dancing can be significantly enhanced in four dimensions (4D): Dedication, Drive, Determination, and Discipline. She instills these values as mentor to her students and the dance groups she has helped along the way in their paths to growth and development.
Excellence Award in Sports and Fitness
Mike "Coach M" Cruz is the founder of Durham Crossover Basketball and the Program Director of Training and Development. Players join local tournaments and leagues within the GTA and surrounding regions including AAU tournaments in the US and North American Basketball Association (NABA) of which we represent the town of Ajax. Durham Crossover Basketball, founded in November 2013, partners with Canada Crossover Sports in representing Filipino Canadian delegation for the SM NBTC National High School Championships in Manila Philippines. They are also a very proud affiliate of Ontario Basketball.
Excellence Award in Media
Judianne began her role in media with the Filipino community in Winnipeg as a columnist for Pilipino Express. Her monthly column, Empowering Through Education informed newcomer parents about the trends and differences to expect in the Manitoban education system. This column then transpired to her writing, under the same title, for Filipino Canadian Magazine, a Calgary- based magazine. Judianne has since gone on to have her work published by Canadian Broadcasting Corporation (CBC). She is now seen regularly on Filipino TV's Manitoba program Mabuhay TV as an anchor where she focuses on attending, highlighting and sharing about local Winnipeg-based events. She has also done guest interviews on CTV and Global News programs. Judianne's dedication to keeping the community connected and informed has led to her reducing her permanent contract as an educator to only 50% – the other 50% of her time, she is in the community creating content/events, or covering local news to share with viewers.
Excellence Award in Music and Entertainment
In 2017, Thea Cruz competed at the world championships of performing arts in Long Beach California and brought home 6 out of 7 gold medals for team Canada as a senior vocalist versus competitors from 50+ countries. She has been on tour with Mikey Bustos in 5 western Canada cities. She opened for Arnel Pineda in Toronto. Her other projects are Dreams have no Deadlines – a WCOPA fundraising concert in Edmonton to help raise money for Alecs Bautista, who is Senior Vocal Division competitor for Canada (2018). She is also touring Winnipeg and Toronto with Morisette Amon and Jason Dy. As well Flying back to Calgary to open for Regine Tolento for their reggaeton Fundraiser. On top of all that she is a wonderful mom and wife and is also the first Asian female to be nominated by Caras for the prestigious Allen Slaight Juno Master Class, which is a huge deal and can get her a spot in being more recognized in Canada.
LBC Most Influencial Community Organization of the Year
PHILIPPINE INDEPENDENCE DAY COUNCIL (ON)
Philippine Independence Day Council (PIDC) endeavours to preserve cultural traditions and enhance fellowship among Filipino members and Canadians with the view of having common goals and objectives; to preserve and perpetuate the traditions of the celebration of Philippine Independence Day; and, to promote and foster unity and better understanding among Filipino associations in Ontario and with the Canadian people as a whole. PIDC is a non-profit umbrella organization of various Filipino-Canadian provincial, regional, professional, educational, cultural, sports and social organizations. Originally, tasked with the celebration of Philippine Independence Day, PIDC has evolved and now organizes numerous activities throughout the year that brings together the third largest and fastest growing minority group in Canada. Since 2013, the addition of the "Parade of Philippine Regions" to the Mabuhay Philippines Festival program became a first in the Filipino-Canadian community. PIDC, through its various events seek to create tourism in Ontario/Toronto and showcase Filipino culture to a larger audience beyond the Filipino community. By fostering cooperation among many of the Filipino organizations across Canada, PIDC aims to bring the Filipino community together from the GTA, Quebec, Greater Vancouver Area, Winnipeg, Calgary and the USA. PIDC continues to endeavor to put together innovative events that inspire, educate and highlight Philippine culture. PIDC has also spearheaded efforts to support charities such as Gawad Kalinga and organized fundraising events for natural disasters in the Philippines. With their membership in the Canadian Multicultural Council of Asians in Ontario (CMC), they have also provided their support in fundraising efforts by other Asian Nations who may themselves, experienced natural disasters.
GLUCKSTEIN Community Service Award
Alberto Rodil, Ph.D., par excellence, is a recipient of multiple awards/recognitions because of his community work. Like thousands of immigrants, he started from the bottom of doing 3 odd jobs at the same time (first 5 years). Because of his strong determination driven by his goal to serve others through work & volunteerism, he was awarded in 2104 as RBC's Top 25 Canadian Immigrant (#1 spot) who brings pride & honour to the Philippines. A strong community organizer, consultant, fundraiser, keynote speaker, and advocate to immigrants where his services are provided free. He manages the Seniors Program of his organization with 10,000 seniors all year round. As settlement worker, he was able to provide free services to more than 40,000 immigrants including the Live-In Caregivers where many are already reunited with their families. He founded the Support Group for OFWs, & Immigrants Across Canada with 2500 + members. He is also a cofounder of the TNO Caregivers in Transition (1500 members). Also, founded of Filipino Youths Support for Better Canada, etc. Alberto was awarded by CIC Minister for his exemplary leadership & mark of great distinction for his community service. He was awarded by his agency for outstanding contributions & leadership followed by United Way Award for Dedication. Other recognitions include a; recognition by Premier Wynne for Community Service & Leadership, and other from different groups for his community service. Alberto's alma mater in the Philippines recognized him as outstanding alumnus for his inspiring story as an immigrant. Because of his exemplary accomplishments, he was personally chosen as special guest in Kuwentuhang Kapamilya in Toronto with Ms. Charo Santos for MMKs 25th Anniversary.
GBA Pinoy of the Year Award
Paulina is a proponent of the successful campaign to make June as a Filipino Heritage Month in the Greater Toronto Area (GTA) and within the Toronto Catholic District School Board. She works tirelessly in the community as an advocate and activist for Filipino Workers, Bill 148: Fair Workplaces and Better Jobs Act 2017, a major overhaul of the rules governing the workplaces like increasing the minimum wage to $14 and $15 and created more opportunity and security for the workers in this changing economy. In addition, she also organized the 2nd Filipino Workers Conference. Paulina is also host of a TV show "WORKERS AGENDA", whose mandate is to inform and educate Filipino Canadians on important issues, concerns and events. She is also the chair of the Women's Committee of the 29-member Asian Countries in the Canadian Multicultural Council of Canada. A former Director of the 2016 Toronto Benefits Network which is task to make efficient and modernized the Toronto Transit and the transportation infrastructure in the City. Paulina is also the President of the Filipino Canadian Parents in Catholic Education and the Mentor Coordinator in the Annual Steubenville Youth Catholic retreat and delegate at Saint Dunstan's Parish in Scarborough. She also organized the Filipino Workers Network, Council in 2014. Paulina Corpuz made a difference in the life of Filipinos across the Greater Toronto Area by initiating and working hard to declare June as Filipino Heritage Month. Her work rippled to the other parts of Canada such that one province and several cities have declared June as Filipino Heritage Month. No other work has made such an impact since the arrival of Filipinos in Canada.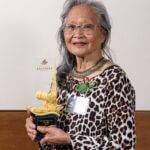 Golden Balangay Lifetime Achievement Posthumous Award
Petronila Cleto (a.k.a Pet, Tita Pet) passed away very early in the morning of Jan 11, 2018 at St. Michael's Hospital in Toronto. She was a journalist, poet, critic, playwright, artist, community organizer, and a long-time activist from the days of the First Quarter Storm. She was also a mother who single- handedly raised her daughter Cynthia, a big sister, the auntie or Tita ng Bayan to many young people in the Pinoy community, and a good friend to so many people who were lucky to have met her or crossed paths with her.
Pet was an artist and authored five plays, including Operetang Tatlong Kusing (an adaptation of Bertolt Brecht's "Three Penny Opera"), which was produced twice by the University of the Philippines, and "Pasintabi Sa Nuno" (To Our Ancestors) which was performed at the Nancy International Theatre Festival in France. Being an artist and a writer, she was best known in the Philippines in the mid-70s as an art/film critic, doing interviews with directors such as Akira Kurosawa, Werner Herzog and Gillo Pontecorvo. She was named then as one of the leading film reviewers in the Philippines by the National Association of Film Critics.
Her list of accolades and media contributions extends beyond the scope of average belief. Tita Pet was a powerful advocate for women's issues, and as an activist, was one of the organizers and active members of Gabriela Ontario. She was also a key contributor alongside our own Louie Queano on TV Migrante (a visual broadcast platform that supplemented her contributions on radio). She edited two volumes of AKDAAN Literary Anthology, compiling the works of Filipino writers in exile. She was already working on the third volume, and, was planning on writing a novel.
Tita Pet arrived to Canada in the 90's where she continued her activism roots which originated in many years overseas back home in the Philippines and used her considerable writing skill to organize and inform the Canadian population about what was happening in the Philippines.
Pet was part of a historical movement, a progressive movement of workers, peasants, women, journalists, migrant workers, political prisoners, the poor, cultural workers, indigenous peoples, of students and other oppressed sectors. It was this movement that she committed herself to, a commitment for a lifetime. At the end of the day, it was the movement and the vision of that movement that made her happy. And her legacy will forever be in the heart of the movement she committed herself to and which will continue to grow in strength everywhere.
Ms. Ruth Dunn, Pet's sister, received the posthumous Golden Balangay Lifetime Achievement Award for Petronila Cleto.
Golden Balangay Lifetime Achievement Posthumous Award
Senator TOBIAS "JUN" C. ENVERGA (ON)
Senator Tobias C. Enverga Jr. was a tireless worker who brought passion, selflessness and energy to all he did, whether as a senator or advocate for the most vulnerable members of society, his Senate colleagues said.
Known affectionately as "Jun," Senator Enverga was the first Canadian of Filipino descent to be appointed to the Senate and was a proud voice for his community and others in the Greater Toronto Area.
Senator Enverga died Thursday, November 16 while on a parliamentary trip to Colombia. Born in the Philippines, the 61-year-old senator represented Ontario in the Senate since 2012.
Senator Enverga was the first Filipino-Canadian elected in the City of Toronto. He served as a Catholic school board trustee in Toronto and became known in the Toronto region for launching the Philippine-Canadian Charitable Foundation. He was co-chair of the Canada-Philippine Interparliamentary Group and inaugurated the annual Filipino Independence Day flag-raising on Parliament Hill.
During his years at the Senate, he was a member of several standing committees and participated in a variety of important studies on issues ranging from First Nations northern housing to Maritime Search and Rescue operations. Senator Enverga championed aid efforts when the Philippines was hit by typhoons and helped many deserving, hard-working Filipinos to come to Canada and live the dream that he considered privileged to have lived himself.
Ms. Rosemer Enverga received the posthumous Golden Balangay Lifetime Achievement Award for Senator Tobias Enverga Jr..