2017 Golden Balangay Winners
Educational Excellence Award (Secondary)
Sandra has been a member of the Philippines Heritage Band, a military marching band based in Vaughan, as a flutist, for over 10 years. She has also done a great deal of volunteer work, locally and internationally. Among her projects, Sandra initiated charitable work in the Philippines, with a primary school in Tuba Benguet, called Besong-Saddle Primary School, an under-privileged school. Sandra donated books to start a small library. By selling homemade trinkets, the money she raised was used to purchase school supplies, a few desks, chairs and computers for the school. Throughout her charity, Sandra monitored the school experience of the students via surveying. Upon initiation, students rated their academic school experience an average of 2/5. Upon completion, the school experience was rated 4/5 on average. Sandra hopes to target other student needs through surveying in the future, and hopes to see an average student experience score even closer to 5/5. Sandra started to study toward her pilots licence at a very young age, which she plans to finish after she completes her post-secondary education. These activities, coupled with Sandra's participation in a Martinique service trip with her school in 2014 (in which her and her classmates built a school in the span of a week), resulted in Sandra receiving the Bronze Duke of Edinburgh award in 2016.
Educational Excellence Award (Post-Secondary)
Before commencing doctoral studies as a Direct-Entry student, Adrian completed a BA (Honours, with distinction) in English Literature and Creative Writing programs at the University of Toronto Scarborough. In the 2017-2018 academic year, he became a Fulbright Scholar at the Department of American Studies at the University of Hawai'i at Manoa, and the Department of History at the University of Washington-Seattle. Adrian is also an urban ethnographer, having conducted research on migrant and working-class Filipinos in Honolulu, Manila and Toronto. His article on transnational Chinese-Filipino urban food ways, "Siopao and Power: The Place of Pork Buns in Manila's Chinese History," was published in Gastronomica in 2016. He also served as a project lead for the mobile app SALT (Scarborough, A Little Taste), which documents and presents Scarborough's migrant food ways for culinary tourists. He speaks English, French, Tagalog. He is also seasoned instructor in Filipino martial arts Kuntaw (mixed hand-and-foot combat from Mindanao), Sikaran (indigenous foot fighting), and Tagaan Arnis-Kawala (weapons and self-defense martial arts developed in Bataan).
Educator of the Year Award
Dr. Robert Diaz is a crucial voice for the larger Filipino community, has appeared on television, film, newspaper articles, and other forms of new media to discuss the needs of the LGBTQ Filipinos. He is one of a few Filipino professors in Canada, and the only gay identified Filipino at the University of Toronto, the country's most esteemed university. His being chosen by Canada's most privileged university speaks to his accomplishments, especially as an immigrant. Dr. Diaz' work on LGBTQ rights has been recognized locally and abroad. He has published numerous studies which have now become essential when discussing the needs of women and sexually marginalized communities. He co-edited a book, the first book in the world, which features the perspectives of Filipino artists/scholars, and community members across Canada on LGBTQ. Because of his prestige, Dr. Diaz was recently invited to participate in Converge, a national gathering in Ottawa that brought key experts, university presidents, Prime Minister Trudeau and student leaders together to discuss the future of education during Canada 150. He was specifically flown in from the Philippines to speak on the value of Filipino Canadian arts and culture, and he represented the Fil/Can community with pride. Finally, Dr. Diaz has fought for Filipino rights when the community has experienced racism. When the Toronto Star wrote a racist article about Filipino food, he galvanized the community by creating a successful campaign to have the newspaper apologize for this article.
IKUBO MEDIA Young Leader of the Year Award
Zenee May Maceda is a labour activist and community organizer. As a student, she helped establish the advocacy group Students Against Migrant Exploitation (SAME) which started at Brock University and now has grown to 60 chapters. After finishing her masters degree at the University of Toronto's Women and Gender Studies Institute, she focused on researching how workers collectively resist oppressive structures that increasingly exploit the labour of temporary foreign workers in Canada. Zenee currently works as a National Representative of the United Food and Commercial Workers, a labour union representing more than 250,000 workers across several industries in Canada. She also facilitates the union's Young Workers Internship Program (YIP), which aims to inspire young workers to get involved in their union to improve the lives of working people. In 2014, she helped organize the Filipino Workers' Network to bring Filipino Canadian workers together to discuss issues that impact the labour community. In 2016, she lead a workshop on diversity and inclusion in the labour movement as part of the Young Workers Summit in Ottawa, where over 400 young workers gathered to discuss issues youth face, including employment, movement building, and the importance of unions. She also contributed an essay to the book, Drawn to Change, a collection of comics highlighting different aspects of Canadian labour history.
WFG Young Entrepreneur of the Year Award
Christopher Paul David is the owner of DAVID VISUAL COMMUNICATIONS LIMITED, an interior design and branding agency that he established three years ago. Today, through his work as creative principle, he has transformed both the Toronto skyline through his work on many of the city's spectacular condominium projects including high-end residential homes, as well as transforming the restaurant industry through his innovative forward thinking of food retailing that pioneered North America's first fast oremium food concept. Since immigrating to Canada together with his parents and siblings eight years ago, this graduate of Santo Tomas University has gained the admiration and recognition of his peers in both the food service and interior design industry from coast to coast in both Canada & the United States. He has worked on no less than 20 of the most prominent fast food brands, restaurants & hotels bringing his unique prodigal skills to each project. He is also the founder of the Trambusto, Levetto & Tosto, pizza pasta branded restaurant chains.
Entrepreneur of the Year Award
Julian Baricuatro is an entrepreneur with over 20 years of experience in entrepreneurship, management, business planning, financial analysis, computer engineering, operations, and decision analysis. He has the breadth and depth of experience needed to quickly understand businesses and craft the most suitable solutions. He also holds and maintain 19 IT Industry certification. Julian is a strategic, multidisciplinary designer & art director with an eye for innovation and event management. He worked the gamut of clients – Microsoft, Docomo, Alvi Armani, Origenere, CocoVie Naturals and Keller Williams – RCC Team Properties, to name a few. Although his skill set is vast, his greatest expertise revolve in the worlds of interactive design, product design, social media, brand identity design, content creation and event management. He is also one of the Directors of Toronto Maharlika Lions Club, Director of PEACE Services, Director of United Heart Foundation, Chief Marketing of Horizon Direct Remittance Inc., Business Development Director of Smartgage Solution Inc., NASIT College, North American Career Pathways, CocoVie Naturals and Tala Organics. He is the co-founder & event director of Canada's Coconut Festival, Lechon Festival, Cannabis Festival, Superfoods Expo, Sprout & Mushroom Expo. Managing Director of Bitsource Interactive and HANAP.COM.
PCCT Business Excellence Award
Agnes Miranda is an accomplished businesswoman and a strong supporter of the Filipino community. She is a role model to Filipino-Canadians that anyone is capable of achieving their goals with hard work, passion, perseverance and positive attitude. She is quite esteemed as a pioneer and leader in both business and community. As an Executive Vice Chairman (EVC) of World Financial Group (WFG) and with her outstanding performance in enterprise building and expansion, it's remarkable how she finds the time and resources to organize huge events and fundraising projects for her community. In 2009, she was a recipient of the WFG Pioneer Award for her substantial contribution to the growth of WFG Canada. In 2012, Agnes Miranda was awarded by the Philippine Independence Day Council as Outstanding Filipino-Canadian in the field of business. With her keen business acumen, Agnes is also a promoter of culture and beauty championing the Filipino-Canadian community's talents and achievements. Through the numerous pageants she organized in Toronto, she mentored women on personality development, poise, confidence, and communication which allowed them to explore bigger and better opportunities. Passionate about her enterprise, Agnes Miranda continues to build bridges and provide opportunities for Filipino-Canadian women through her expertise and mentoring to become business owners and/or establish a stable career in the financial sector.
Manggagawang Pilipino of the Year Award
Annie Chua is an active remarkable individual who helps organizations in Edmonton achieve their fundraising goals, programs and other activities that cater to the Filipino Canadian community. She has contributed most of her time giving speeches to schools and organizations in inspiring and empowering Filipino community. She came to Canada as a caregiver and worked her way to receive her Professional Freight Forwarder designation and was recognized by CIFFA – Canadian International Freight Forwarding Association on their Bulletin for her exemplary example of hard and perseverance and the only Filipino -Canadian in doing so. Annie is seen as one of the best example of successful Canadian immigrant. With her story, it shows that whatever life brings you, if you work on your dreams with guts and perseverance, you will achieve them.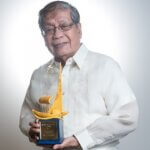 Excellence Award in Arts and Culture
Romi C. Mananquil is a distinguished top illustrator for books, comics & magazines. One of his most important achievement is when the Bangko Sentral ng Pilipinas commissioned him, together with two other artists, to design the 1983 series of bank notes and coins, which included the P1,000 bill that is still in circulation today. Highlight of his design in the series is the independence declaration scene originally featured in the now demonetized 5-peso bill and adapted again in the P100,000 Philippine centennial commemorative note. Mananquil played an important role in organizing Filipino artists in northern America when he migrated to Canada in 1985. He founded the Philippine Artists Group (PAG). He has been a member of the prestigious Portrait Society of America. He was a recipient of the Queen Elizabeth II Diamond Jubilee Medal to commemorate the 60th Anniversary of the Queen of England's Ascension to the Throne. He was one of the 5 recipients of the ASNA Award trophy and certificate, notably the highest and most prestigious award to outstanding Pangasinenses, given personally by Governor Amado Espino at the highlight presentation ceremonies of the 433rd Founding Anniversary of Pangasinan at the newly renovated and very classy Sison Auditorium in Lingayen. His name is now permanently engraved among others at the ASNA Park behind the auditorium.
Excellence Award in Sports and Fitness
Boxing is by no means easy. Marc Pagcaliwangan is an example of hard work and dedication. He can be that beacon of light for people to follow their dreams. Marc manifested these dreams of training with his idols Manny Pacquiao and Nonito Donaire Jr and training within Freddie Roach's world reknown Wild Card Gym. Not too long ago those dreams have come true. Marc Pagcaliwangan is only 1 of 3 Filipino Canadian professional boxers. He's also undefeated with a record of 10-0-1 with 8 ko's.
Excellence Award in Media
Krystle Alarcon is an award-winning, multimedia reporter based in Montreal, Quebec. She was nominated for two awards by the Canadian Association of Journalists in 2014, for her investigative pieces on a prostitute trying to exit the industry in Vancouver's Downtown Eastside and the abuse of temporary foreign workers in Canada. She won an award for the latter. Fluent in French and Tagalog, she enjoys reporting on social justice issues and increasing the representation of minorities in media. She loves cooking, playing with dogs with squashed noses, and trying to spike a volleyball.
Excellence Award in Music and Entertainment
Raffy Ramiro, a true musician, is a multi-instrumentalist as he has honed his talent all over the world performing with the following instruments: guitar, bass guitar, drums, percussions, keyboard, saxophone, trombone and mandolin. Everyone who has seen Raffy do his one-man-band show are thoroughly entertained. Raffy's pure intention is to leave a legacy by teaching anyone who is willing to learn music. He currently teaches music at his private studio. Raffy is the founder of "Be a Rockstar in 18 Hours" program in China and Canada. This technique gets students performing quality music in a very short time. Raffy founded the band, SWAP SIX. This classic rock band, who also recorded original songs, earned themselves spots at prestigious venues in Qingdao Shandong, China. Their prolific musicianship was awarded as Swap Six received the award for Redstar Magazine Best Live Band for 5 consecutive years. He was also a Jury at the George Gershwin International Music Competition New York, USA.
Norma Carpio has served the Filipino-Canadian community for many years. She started promoting Philippine heritage and culture in 1998 when she successfully spearheaded having the Philippines as a feature country at the CNE. Having done so, she became the first to organize a large Filipino festival highlighting the talents and achievements of Filipinos from all over the world. She headed the Philippine Independence Day Council (PIDC), originally tasked with celebrating Philippine Independence Day, and helped it evolve into an organization which puts together large events such as the "Salu-Salo sa Earl Bales Community Pot Luck Picnic", the Mabuhay Cup Invitational Basketball Tournament, the Mabuhay Cup Volleyball Tournament, the Miss, Little Miss and Mrs. Philippines pageants and the 19-year old Mabuhay Philippines Festival. In addition to her work with PIDC, she has also successfully done multiple fundraising events to help with calamities in the Philippines and to eradicate poverty in the Philippines by partnering with Gawad Kalinga. Without her vision and determination to continuously promote the Philippines throughout the community and mainstream society, Filipinos not gain as much prominence and recognition they so greatly deserved.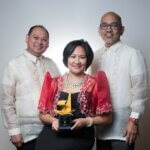 LBC Most Influencial Community Organization of the Year
ANCOP INTERNATIONAL CANADA (ON)
ANCOP International Canada, Inc. is a duly registered Canadian charity / non-profit organization dedicated to restoring dignity and uplifting the lives of poor children and families around the world.
ANCOP helps transform the lives of poor children & their families, helping restore hope and dignity through child sponsorship; community development by building homes for the poor and provide sustainability by supporting community development programs; and, humanitarian relief efforts for those affected by natural disasters.
Tony A. San Juan is a long serving professional educator, community leader & organizer and public relations specialist. He has been engaged in 3 countries, living, working and serving as a teacher, lecturer, professor, administrator, and education officer in the Philippines, Nigeria and Canada. In Canada, at the U of T & OISE, he undertook courses in Human Resource Management and has completed Professional Specialization (AQ) teaching courses. Joined the University of Toronto as a Faculty of Engineering graduate research assistant & tutor. In 1995, he was a contract project officer and coach at the historic OISE Gen. Educ. Development testing pilot project in Ontario. Having been licensed as an Ontario Certified Teacher (OCT) by the ON Ministry of Education & the ON College of Teachers, Tony connected to his professional passion, serving as an occasional teacher at several city education boards (York, Toronto, Scarborough & York Region).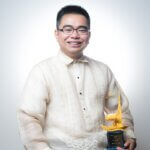 GBA Pinoy of the Year Award
An associate professor in the Department of Dance at York University, Dr. Patrick Alcedo currently holds the Government of Ontario's "Early Researcher Award." He has won both the School of the Arts, Media, Performance, and Design "Junior and Senior Teaching Awards" for excellence in teaching. He is the lead editor of Religious Festivals in Contemporary Southeast Asia (Ateneo UP, 2016) that is nominated for the "36th National Book Award in the Philippines." He is the director, writer, and producer of 5 documentary films that have appeared in the New York Times, have received support from Canada's Social Sciences and Humanities Research Council, and are distributed by Alexander Street Press. In recognition of his achievements in dance studies and ethnographic research, he won in 2014 the prestigious "Selma Jeanne Cohen Fund for International Scholarship on Dance" from the Fulbright Association of America. The following year York University named him a "York U Research Leader." His work and accomplishments have been recognized by various respected organizations all over North America.
GBA Lifetime Achievement Award
TOMAS "Tatay Tom" AVENDANO, Sr. (BC)
Tomas Avendano, Sr. is a crusader and a multi-awarded community leader from Vancouver. He is fondly called "Tatay Tom" by practically everyone in the Filipino-Canadian community of British Columbia. No one else in this community has been accorded this kind of love, respect, and esteem. Tom in every sense of the word is "Father of all Filipinos." Born a community leader in Dao, Capiz, Philippines in 1929, he served various communities including the City of Pasay where he served as a Councilor for a total of 8 years. He migrated to Canada with his family in 1982 and went through what mostly all new immigrants experience. He turned entrepreneur and operated a restaurant in the City of Surrey where he also volunteered with his wife at St. Matthew's Church. The Filipino Canadian Support Services Society (FCSSS), with Tom and several other community leaders, started out as a neighborhood self-help group in Surrey and Delta. Tom was the architect, engineer, builder, developer and primary guiding force of the organization.
Tom, with his allies in FCSSS, brought the whole Filipino Canadian community of the Lower Mainland together and accomplished a remarkable achievement. Tom and his group quietly laid the cornerstone of the FCSSS building headquarters. With the mandate to serve the Filipino-Canadian community in assisting its newcomers to get settled, find employment and integrate well with the Canadian society, Tom's group raised sufficient funds to purchase the land on Fraser Street. Construction funds were then borrowed to build the Helping House itself.
Tom's vision of helping newcomers expanded beyond culture, background and color. The FCSSS became the Multicultural Helping House Society, a three-story building with facilities ranging from respite housing for newly arrived immigrants and workers to counseling and training services. Support services included settlement and employment assistance as well as programs for the youth, the seniors and families.
Tatay Tom has a very long list of awards given him by government, business groups and civic organizations in recognition of his undertakings and achievements. The very latest was the Queen Elizabeth II Diamond Jubilee Medal conferred to Tom in 2012 by the Right Honorable David Johnston, Governor General of Canada. He was the sole Filipino Canadian among 60 medal recipients recognized for their significant contribution to a particular province, territory, region, or community in Canada.