2021 Golden Balangay Winners

Educational Excellence Award (Post-Secondary)
Alfonso Ralph Mendoza Manalo (ON)

Alfonso Ralph Mendoza Manalo has strived to promote the study of Filipino-Canadians, the Filipino diaspora, and the Philippines. He is a third-year student at the University of Toronto Scarborough (UTSC) majoring in Public Policy and Global Asia Studies and minoring in Critical Migration Studies. Through his academics, he has shed light on issues that the Filipinx diaspora faces by presenting his findings on Colonial Mentality amongst Filipinos and how it works to further oppress us, and his research on Anti-Asian discrimination during COVID-19 at UTSC's Undergraduate Research Symposium. His desire to promote the study of  Southeast Asia has culminated in two publications in Synergy: The Journal of Contemporary Asian Studies, the first being on the status of the ratification of the SOGIE bill and the second on the implications of current anti-sex trafficking practices in Thailand. He was also one of the first male cheerleaders at UTSC, in which his experience was broadcasted to help celebrate the lack of gender diversity in certain sports such as cheerleading on campus. He volunteered at UofT's Asian Institute in which he works alongside other interns to locate and code events of the conflict in Mindanao from 1980-2010, which will culminate in an open-access web resource that shows the spread of this phenomena. He also volunteered to independently undergo a 5-month long study in which he scourged through major news publications across Canada to locate news stories on Anti-Asian Discrimination during COVID and individually plotted each individual incident on an open resource map. He was inspired by the omission of Anti-Asian discrimination in the field of race studies and ethnicity, in which the Asian-Canadian experience is constantly left out of the discourse, and thus created a presentation showing the historical legacies of Anti-Asian discrimination in Canada, which he shared extensively alongside the map.
The nominee best exemplifies through his work term at the RCMP, where he initially served as an Information Management Research Assistant and is currently serving as an Equity, Diversity, and Inclusion Policy Advisor wherein despite the fact that he is only an intern he has worked on various high-profile government initiatives. These most notably include the piloting and formulation of Race-based Data Collection nationally across the RCMP and the development of an Anti-Racism course which will be made mandatory across the RCMP and its 30,000 employees. His courage was exemplified in the fact that he has been outspoken about Asian-Canadian rights and experiences of discrimination within the RCMP and Canada as a whole, despite the fact that there lies a power differential between him and the other members of the working group who hold different but valid opinions, as he is but an intern. A clear instance of this is when he advocated and pushed that the RCMP's race-based data collection project must prioritize the collection of perception-based race data (what the police officer presumed the individual's ethnicity was at the onset of the interaction) rather than self-identification race-based data (what the individual racially identifies as). He outspokenly went against the will of managers and other leads across the RCMP who repeatedly wished to prioritize self-identification data by noting that regardless of how you racially self-identify, it is the perception of the police that shapes the police interaction. His courage was also demonstrated in the fact that he was the only intern and Filipino in the working group that is responsible for creating the RCMP's upcoming anti-racism course, wherein he stressed the need to include and consult Asian-Canadian NPO's and academics and material on the discrimination that we face rather than solely focusing on Black-Canadians and Aboriginals.
IKUBO MEDIA Young Leader of the Year Award
Jelynn Dela Cruz (MB)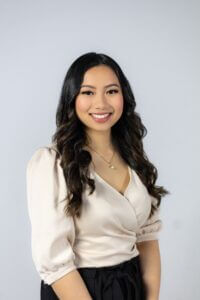 Jelynn Dela Cruz is passionate about advocating for mental health, accessibility, equity and for helping newcomers. At the age of 21, some of her community leadership endeavours include: -Developed her public speaking skills as a finalist of Dalagita in 2017 – Involved in various
initiatives whose beneficiaries ranged from underprivileged classrooms in the Philippines to the United Way to the Immigrant and Refugee Community Organization of Manitoba to orphanages in Vietnam. – Since 2015, engaging in leadership, outreach, and fundraising roles across various mental health organizations including Jack.org, Peace of Mind, Mood Disorders Association of Manitoba, and the Stratas Foundation. – Honoured by the University of Manitoba (UM) as an Emerging Leader in 2019. – Served two elected terms with the UM Students' Union from
2019-2021, collaborating with various levels of governance and organizing advocacy efforts with community stakeholders on the basis of student rights, services, socioeconomic contributions, and accessibility of higher education, including the following: —As inaugural Vice-President Student Life: administering hardship fund, contributing to the University's Equity, Diversity, and Inclusion report. —As the first President of Filipino descent: spokesmanship for over 26,000 undergraduate students, advocacy amid the COVID-19 pandemic, operational oversight of the multi-million dollar not-for-profit union and its staff, and the administration of over $1.3 million in scholarships and bursaries for fellow students. – Co-Founder, Manitoba Alliance of Post- Secondary Students – representing over 61,000 post-secondary students in the province. – 2020-21 member of the UM COVID-19 Steering and Research Committees – Vice President of Manitobans for Human Rights Youth Council – Youth Chairperson, Philippine-Canadian Centre of Manitoba – Founder and former President, University of Manitoba Sociology and Criminology Association of Students – Served on the Manitoba organizing team for the Prime Minister's Youth Council. – Socio-cultural Leader for the UM Intensive English Program for international students.
Jelynn works collaboratively and does not hesitate to connect with people who have a similar vision and mission. As a part of Dalagita, she became a mentor encouraging the next generation of young women to join the program. She has a solid understanding what matters most to her and her peers and is responsibly taking steps to better herself as a leader in order to advocate for these causes. At her young age, she is already meeting regularly with community leaders and elected officials as a voice for youth, particularly students. Within her advocacy, she not only supports certain organizations but takes action to create change or momentum for them. As the outgoing elected President of the University of Manitoba Student Union (UMSU), Jelynn makes student voices heard and to have these needs met. This includes consulting with over 26,000 student members at UMSU (surveys, community consultation sessions, and biweekly board meetings) and engaging with equity-seeking community members along the decision making process. She has successfully lobbied the province to amend Bill 33: the Advanced Administration Act to safeguard student-administered services. She has also administered a successful referendum to offer a universal legal aid program to all undergraduate students at UM, the continuations of U-Pass, and their formal membership in the Canadian Alliance of Student Associations. An admirable quality Jelynn carries is how she supports young researchers and their bright ideas. She advocates for adequate research funding and prioritization to fuel policy and service development across the province and nationally. She is the co-founder to Manitoba Alliance of Post-Secondary Students (MAPSS) which has brought the largest student associations on the same page in terms of advocacy. So far, these student associations include UMSU, UMGSA, RRCSA, ACCSA, and UWSA from different post-secondary institutions in the province.
Entrepreneur of the Year Award
Sheila Tan (MB)
Sheila Tan is being nominated for the community that she continues to grow in Winnipeg around the switch to organic, vegan and cruelty-free products. Sheila's business, Di Erbe Inc., not only creates organic, vegan, cruelty-free products but also educates about the effects of using different chemicals on your skin. She shares her passion and knowledge about the ingredients she uses through her social media platforms (and anyone who asks her while they're in her shop). Notably, she uses natural ingredients known for different healing properties and seeks to teach not only her fellow kababayans, but the wider community, of being aware of and proactive regarding the importance of taking care of your skin. With the rise of challenges that came in 2020, Sheila included hand sanitizer in her lineup, which has now also been approved for meeting the requirements set by Health Canada. She has, like many business owners, pivoted her business model to include curbside pick-up and delivery options. Her business has grown a following in a time where health and self care have been more in the spotlight – and she uses this opportunity to continue to teach about the benefits of using natural ingredients. Apart from Di Erbe Inc., Sheila sits on the board for the Norwood Grove BIZ along with other members of the business community, along with City Councillor Matt Allard. Her volunteer participation on this board helps to ensure the continued economic growth and success of the St. Boniface area in which her shop is located.
Sheila Tan is bringing education to the products women use on their skin. What started out as  attending a soap-making workshop to find products to safely work with her daughter's eczema has led to a natural, vegan, cruelty-free skincare, body care and cosmetics shop in the St. Boniface region of Winnipeg. You can find Sheila in her shop and have a conversation about your personal skincare needs – and she will be able to provide you with a comprehensive set of options that will work without irritating your skin. What is impressive about her is that she will also take the time to run through the natural ingredients that the products have – where they are found naturally, the effect they have on skin. The line of beauty and skincare that Sheila has created is unique to our community in the way that she brings together natural ingredients and educates others about these products. She has truly built a community of Filipinos and non-Filipinos across our city and is celebrated for how she shares her knowledge and how she has adapted to the challenges of Covid restrictions. While many companies have had to pivot their business models and how they operate, Shiela had innovatively developed a hand sanitizer that had met the requirements set by Health Canada. In a full circle celebration, her Super Dry Patch cream product, originally created to help her daughter and launched her business, has also now been approved by Health Canada. Individually, Sheila's story has been featured by the Women's Enterprise Centre of Manitoba's Success Stories website, and was a finalist at the 21st Annual Women Entrepreneur of the Year Award hosted by the Women Business Owners of Manitoba.
Sheila and Di Erbe have many competitors locally and globally in the health and beauty niche. This is even more impressive when knowing that she left a management position in 2009 to start her own company in such a competitive market. What makes her unique is that she is the only Filipina in Winnipeg running this kind of business. She is not outsourcing products – she is literally creating them from scratch in her workroom at the back of her store. Often seen in her lab coat and gloves, Sheila is creative and knowledgeable in the products she brings to life. She finds natural resources that she knows makes a positive impact on skin care and is so well versed in the benefits of each of the ingredients she includes in her line of products. While we often think of "supporting local" and especially supporting our kababayan, Sheila Tan has truly made her mark on the Winnipeg business scene. Her loyal and soon-to-be-loyal customers come from a range of cultural communities, backgrounds and lifestyles. She is compelling in her passion for health and natural products, and this is contagious. Sheila's story has been featured by the Women's Enterprise Centre of Manitoba's Success Stories website, and was a finalist at the 21st Annual Women Entrepreneur of the Year Award hosted by the Women Business Owners of Manitoba. At least two of her products have been recognized to have met the standards of Health Canada, adding more credibility to the quality of what she makes, and her efforts to make them more accessible to the wider community.
Business Excellence Award
Great Smile Family Dental (AB) – Dr. Rod Montano
My first impression of him was a quiet man in the corner with great insights, honest and sincere evaluation of pros and cons, and a person who spoke humbly and supported the overall vision of the majority. He touches the hearts of other cultures, his circle also included other nationalities. He is a good ambassador of multiculturalism in Canada. He also promotes Canada as one of the best countries to live when he gave tours to international artists visiting Canada. He shares his talents by singing at shows and expect him to hum while tending to his patients – he is also known as the "singing dentist". The dental offices were mandatorily closed for two months during the first wave of COVID-19 causing unemployment to dental employees, loss of businesses for suppliers and contractors. With amazing resilience, Dr. Rod Montano Dental Clinics reopened its doors after restrictions were lifted. All must make big changes and be adapted to it. He rehired all of his employees, which totaled to approximately 60 individuals who were able to work again, and reconnected to private contractors. He updated all equipment to follow the health guidelines; one of his biggest priorities is to also protect his frontline workers. The leveraging power of money has been a challenge to all – to stay off the ground. However, Dr. Rod Montano has shown us all that this challenge is an instrument to creating a better community and workplace for his staff and patients while maintaining a clean and safe environment. He is helping the Philippines and his adopted country, Canada. He supports local Canadian charities like HOPE Mission, World Vision Canada, Compassion Canada, Maranatha, National Camp for the Blind, and more. Dr. Rod Montano is a true leader and team player, a follower, and a believer.
Excellence Award in Arts and Culture
Leo Mascariñas (ON)
LEO MASCARIÑAS hails from far-flung Butuan, the Land of the Balangays. Like the voyages of the seafaring balangay boats which sailed the waters of southeast Asia in pre-colonial days, Leo's own life journey has taken him to five continents of the world. He traveled extensively with the Philippine Madrigal Singers, UNESCO Artists for Peace, promoting international understanding, and showcasing world-class Philippine artistry. In Canada which he now calls home, he ventured into new horizons by joining two of the nation's oldest, largest and most
prestigious arts institutions. He sang with the formidable Toronto Mendelssohn Choir (TMC), founded in 1894 and the partner-choir of the Toronto Symphony Orchestra. He became the first and only Filipino-Canadian master photographer in the 133-year history of the Toronto Camera Club, established in 1888. While his Mensa-certified intellect has led to a successful life-long professional career in the field of information technology, his creative genius made him devote part of his life in making contributions to various fields of arts – visual arts, performing arts, and literary arts. His work in these multi-dimensional areas are a testament to his ingenious ability to simultaneously and successfully craft a distinct message through divergent endeavours. Leo could undoubtedly be best described as a Renaissance man, a person embracing universality
whose interests and talents span the sciences and the arts. This citizen of the world is a scholar, an educator, a software engineer, a photographic imagineer, a bass-baritone, a world traveler, a polyglot, a language conservationist, a word game inventor, an author, an archivist, an ambassador of goodwill, a community volunteer, a benefactor, and a multiple brain tumours survivor. Indeed, the world is Leo's oyster. In his beautiful mind dwells a benevolent creative spirit.
GOVERNMENT SERVICE • Among the pioneers of computerisation in the Philippine government • Went on several official government cultural missions abroad as ambassador of goodwill • Command performances at Malacañang Palace for visiting heads of state, royalty and international dignitaries
EDUCATION AND DEVELOPMENT • Provided professional I.T. educational services at universities, technical institutes and other organisations in three countries • Generated nationwide interest among high school students in pursuing an I.T. career thru the annual National Computer Programming Competitions Project spearheaded by Leo • Mentor in several organisations, including youth summer camps • Has shared his photography expertise by conducting free workshops, seminars, webinars and other learning activities for several entities in the GTA and the Philippines • Cultivation of creativity with his generous bequest of over 1,000 visual arts books to the Butuan City Library
PHILIPPINE CULTURE PROMOTION AND CONSERVATION • Has performed Philippine music as soloist/member of several choirs in different parts of the world • Demonstrated artistic excellence with the Philippine Madrigal Singers in their triumphant wins at international competitions • As a means of helping preserve Binutuanon, classified among the dying Philippine languages, he co-authored the first-ever published Binutuanon language guide and dictionary as sections in the travel guidebook "Madiyaw Nga Pag Kani Butuan" (Welcome to Butuan). • Invented "Dagdag-Bawas", an ingenious Pilipino word game which provides daily online "pandemic" entertainment. It's an engaging and challenging way of expanding one's Pilipino vocabulary where the young can learn now-seldom used Pilipino words, while the old can learn newly-minted slang. It covers several Philippine cultural terms. • Public awareness of FCT's "Filipiniana Heritage Library" holdings of over 500 books thru the creation of a Facebook page which presents book cover photos and bibliographic information. A similar project is being proposed for the Philippine Consulate-General's Sentro Rizal Toronto Library.
Excellence Award in Media
Kent Donginues (BC)
On behalf of Aimer Films, we would like to nominate Kent Donguines for this year's Golden Balangay Awards. Kent is one of the frontrunners in the film industry in promoting Filipino-Canadian stories. Moreover, his work has been recognized in notable film festivals as a Producer and this year, as a Director with his short documentary called KALINGA. It's scheduled to have its world premiere in Western Canada's largest documentary film festival, DOXA Film Festival and is also nominated for an award in this year's Yorkton Film Festival. Kent is also one of the residents of the prestigious Canadian Film Centre Producers Lab program.
Yes, after his directorial debut with Kalinga, he is now slated to direct his next film, PACO supported by The Harold Greenberg Fund, CreativeBC and Film Boldly. Kent is one of the most active filmmakers in the city of Vancouver when it comes to telling authentic Filipino stories and he's slowly getting recognized for that. In his short documentary, he has featured stories of Filipino caregivers and nannies in Vancouver and for his next film, he is telling his own story as a Filipino immigrant. He's really working on inspiring other Filipino-Canadian artists to tell their stories as authentic as possible.
Excellence Award in Music and Entertainment
Marky Hugh (ON)
Marky Hugh started singing and acting at the age of 10 when he joined competitions, theater arts groups and choirs and improved his talents through his experiences. He continued his music career in Canada and through hard work won a Gold Record Award from Music Canada in 2013 with a group music single entitled "If You're Not Here at Christmas" with the Spectra Singers. After this, he released his own solo music single entitled "Story Of Us", written by DJ Divine and himself, and produced by the Juno award-winning singer/songwriter Gavin Bradley. He was nominated for the Excellence Award in Music and Entertainment at the Golden Balangay awards in 2018. He received the Concert King Award also in 2018 from the Toronto Maharlika Lions Club. Recently, he won 2 medals at the World Championship of Performing Arts 2020.
Marky Hugh is not only a singer & songwriter, but also host, coach, stage manager/director, author and producer. He is the CEO/Founder of Marky Hugh (MH) Productions established in 2017. MH Productions is a production company that specializes in event and music production, talent management for
singers, dancers, hosts, models, instrumentalists and variety acts. MH Productions also conducts entertainment workshops in voice, acting, dancing, and modelling. As of this year he already has about more than 150 Talents from various sectors of the performing arts in Canada, Philippines, Kuwait, Macau and Hongkong. He produced numerous concerts such as those of Morissette, Raymund Lauchengco, Sarah Geronimo, and fundraising shows in the Greater Toronto Area and attended festivals and other community events.
He won 2 medals at the World Championship of Performing Arts 2020 in singing and acting. He scouted three talents for the 2019 World Championships Of Performing Arts. His talents garnered 16 medals in total. He has produced one semifinalist and one junior division winner Champion Of The World in Modelling. He got promoted as a Regional Director of WCOPA Canada because of his commitment to the organization. Last year, MH Productions fostered 49 medals in total, and took home one Champion of the World in Duo Category. Some of Marky Hugh's Main stream opportunities: 1. He guested twice on WISH USA with million followers promoting his original songs. 2. He recently joined The Casting Solutions – a main stream talent agency.
Senior Achievement Award
Dr. Josephine Pallard (AB)
They call her the "Filipino dynamo of Edmonton" and may I, name her the female version of the late Carlos P. Romulo (CPR). Let me explain why a "dynamo", she is highly spirited, quick, alert, and full of mental energy. Why "CPR", when she speaks everybody listens; she is known as short and smart. She garnered a lot of respect from a multitude of people in and out of this community, people of all ages, cultures, fellow "kababayans", politicians, and policymakers. She is at her age now, still the Executive Director of Changing Together – A Centre for Immigrant Women. She is our spokesperson in Arts, Culture and Heritage, she has full of knowledge of Philippine history in Alberta and Canada. In the late 20's, she stood her ground in government subsidy and inclusion of "Tagalog" as an elective language in the Alberta curriculum. She is the mentor and pillar of the "Philippine Rondalla" and Pinoy traditional music in Alberta. Ate Josie is the adviser and President of the Filipino – Canadian Saranay Association. She organized and spear headed concerts on behalf of the Saranay, proceeds of which were used to bring the group in other countries to promote instrumental music and performances live in front of foreign audience. It is very uplifting to talented Filipino Canadian Youths to perform abroad showing off their talents. One of the greatest achievement of Dr. Josephine Pallard is bringing into reality on stage the first Filipino Musical Broadway in Alberta, Emma – The Musical. It was an ambitious project that happened during the tough economic times in Edmonton, 2018. The show ended with superb reviews and a long standing ovation from the audience. She has good ears to what is modern. During COVID she went into online 50/50 fundraising for the group.
In 2014, I worked with her when The Edmonton Real Estate Board sponsored her program on empowering new female immigrants in Edmonton. She conceptualize the project in giving out 100 tool boxes to immigrants. My experience in every meeting with her was very fulfilling to note that this woman was born a leader. She is a leader who has positively impacted many in the community, she is a firm believer in training a team she can trust and can deliver the work successfully. She hires qualified immigrants to teach and assist other immigrants. Josie Pallard designs modules and programs to assist female immigrants in alleviating their challenges like, language barriers, lack of employment opportunities, raising of children and more. Her projects help newcomers be enriched with knowledge and experience to becoming productive and beneficial in the society. Above all other things, her love of the Philippine Rondalla Group and Filipino Canadian-Saranay Association. She believes that youths are leaders today and tomorrow and will bring brighter future in this country. Members of these groups train themselves once a week, keep themselves occupied with learning in class or on line, keeping them off the streets. As a result, the group was able to spread their talents with their performances abroad – all because of the Saranay and Dr. Pallard. Their performances were in demand at different cultural shows and opening acts in various events in the city. She planted so many seeds among the youths leaving an endearing love of this culture and that will never be erased in the minds of Filipinos. She is a perfect example of a leader who has been there through the tough and the good times and has always been able to lead in any situation no matter what her role is – quite a legacy.
Manggagawang Pilipino Of The Year Award
Keith Leo Indico Simba (MB)
At age 28 years old, John Keith Leo Indico Simba was appointed Manager of Administration with the Department of Agriculture and Resource Development and one of the few representing visible minorities and the only Filipino in a management position. He continues to lead and manage a geographically dispersed team of 12 professionals. Working with John directly, you can witness how he improves team dynamics, explores creative solutions, and dedication. His contributions have improved public reporting requirements and procurement making an impact on efficiencies and cost savings. I have also previously worked indirectly with John in various government departments, where I have witnessed him develop from a STEP Student (Intern) to being part of Executive Management Committees of various Departments. In his spare time, he volunteers weekday evenings at The Winnipeg School Division 1 English as an Additional Language Program and Frontier College teaching English language skills, literacy, and numeracy to immigrants, refugees, and inner-city youth. He displays the Filipino value of being a hard worker, which is important in being an executive.
I want to note that I nominated John last year (but due to COVID-19, I think the awards were postponed). Working and reporting directly to John, I have witness his continuous achievements. For someone to gain respect with staff and direct reports who have over 30 years of service is already an achievement. On a daily basis, I see his commitment to this staff and public service. He provides advice, shows how work is done, and if he does not know it, he takes ownership to learn with staff. You can always hear him ask, "Please let me know where I can jump in and help", and say, "I want to learn so I can understand and help you make work easier". As government experiences changes through transformation and reorganization, John has always been a solid foundation in response to the stress and approaches with enthusiasm and positivity. He is the "go to" person when staff have questions and responds with a wealth of knowledge. As Manager of Administration, he has taken increasing responsibilities and coverage such as budget, accounting, operations, and programming. He has increased efficiency through innovation and standardization of processes and policies while learning and mastering the craft of the various units and branches of the overall department. He has saved time and promoted transparency by developing templates and easy-to-use instructions and continually asks for constructive feedback. At the start of his managerial position, he led his team to winning a divisional contest based knowledge on and skill. John is always ready to provide support and backup to staff no matter where they are in the organization. Beyond his own team, he knows and greets people by their name and builds relationships.
Most Influencial Community Organization of the Year
Filipino Canadian Students' Association, FILCASA (ON)
The Filipino Canadian Students' Association is the umbrella non-profit organization of Filipino post-secondary students nationwide, housing 28 member schools, including the University of Toronto, University of Ottawa, University of British Columbia, and more. FILCASA was founded in 2017 and has been committed to the pursuit of social and cultural endeavours by connecting Filipino communities across Canada for our members' personal and professional growth. We complement the social and cultural endeavours of our component organizations by connecting each other with Filipino communities across Canada in order to provide our members with new resources for personal and professional growth. This year alone, FILCASA reached a 68% increase in chapter growth. FILCASA still continues to reach out to business partners, member schools, and community organizations. We have had the pleasure of partnering with organizations such as Rise Tribe, Anakbayan Toronto, Philippine Centre Canada, KapitBisig Canada, Filipinos in STEM, and more. As FILCASA's President, I take so much pride in our organization's initiatives. Despite the challenges posed by the COVID-19 pandemic, we managed to bring Filipino Students' Associations closer together from across Canada. I would like to first highlight how FILCASA took the lead on the Typhoon Rolly Fundraiser, along with Rise Tribe and Anakbayan Toronto. Together, we raised $3,315 which was donated towards
Sirongan PH, The National Union of Students of the Philippines (NUSP), and Katribu Youth for their typhoon relief efforts. The organizations specifically provided assistance to Bicol Region residents, National Capital Region residents, and Dumagat and Mangyan communities. With all the above points in mind, in addition to the ones subsequently mentioned, we have continuously demonstrated that FILCASA is committed to creating impact-driven initiatives for the long-term success of Filipino youth. I am confident that FILCASA is deserving of the Most Influential Community Organization of the Year Award nomination and award.
In November 2020, FILCASA, in collaboration with Filipinos in STEM and the Filipino Students' Association of Toronto, hosted the first-ever Intercollegiate Symposium, where Filipino high school students had the opportunity to interact with post-secondary students and chat about their programs of interest. We take so much pride in hosting this event as not many initiatives cater to Filipino high school students. We also believe that it is important to recognize the trajectories of Filipino Canadian high school students, especially those whose educational journeys are deferred and delayed due to differences in educational curriculums between the Philippines and Canada. In January 2021, we launched the pilot Coffee Chat Series, in which 16 Filipino industry professionals volunteered to chat with Filipino youth regarding their respective roles and/or companies. Industry professionals from TD Bank, NBA G League, Indigenous Services of Canada, were on board, to name a few. More than 20 student participants partook in this networking opportunity, with some even leaving with mentors and lasting company connections. In March 2021, FILCASA successfully hosted the 24th Annual Superskillz Talent Showcase with over 900 views on YouTube. The event theme being Sa Silangan or In the East, we encouraged our performers and audience to reflect, reclaim and redefine their Filipino-Canadian identity. We also had the pleasure of having a pair of powerhouse headliners, John Concepcion (Filipino-Canadian artist) and Jeremy Passion (Filipino-American Artist, notably known for his song 'Lemonade'). It should also be noted that FILCASA hosted other events/initiatives, including a Baybayin Workshop, Typhoon Rolly Fundraiser, FILCASA Fireside Chats, Financial Literacy Workshop, Community Wellness, and Awareness on Anti-Asian Racism. These events represent our genuine commitment to amplifying and connecting Fil-Can students from East to West. I believe that FILCASA is the best candidate for this award.
Community Service Award
Perla Javate (MB)
Perla Javate or commonly known as "Tita Perla" is a retired Community Liasion Officer from Winnipeg School Division. She served newcomer students and their families for 35 years. She is currently the President of Philippine Heritage Council of Manitoba and the Current Co-chair of Ethno Cultural Council of Manitoba. She is also currently the president of Coalition of Filipino Canadians for Stronger Families and the former President and founder of Pinays, Mb Inc. Perla Javate is the mother of Fililpino community in Winnipeg. She led many Philippine Independence Celebrations here in Manitoba. Also, during her time in Pinays, they celebrated International Women's Day through giving awards to deserving Pinays here in Manitoba. Pinays also partnered with many other organization in offering community events like Welcoming Newcomers event and Picnic at the Park event. They even partnered with Canadian Muslim Women's Institute in their sister to sister program. With her Coalition hat, her group, under her leadership facilitated many online programming to help our kababayan during the pandemic times. They created Fun in the kitchen program for moms with small kids, they partnered to create a book and published it. She was also engaged in providing online information about COVID and resources through her work at ECCM. Perla Javate is a true epitome of a community leader, who started serving the community since she arrived here until now that she is retired. She is a true gift here in Manitoba for the Filipino community and the greater community. Her love and wisdom is a true blessing. She deserves to be recognized.
GBA Lifetime Achievement Award
Arturo Tapiador Viola (ON)
He was born in the small town of Santiago, Isabella, Philippines on May 2, 1939. Came to Canada in 1967 and worked at the St. Catharines General Hospital. He also worked at the Niagara-on-the Lake General Hospital until his retirement in 1994. It was after his retirement that he entered politics and served the town of Niagara-on-the-Lake until 2010. He was married to Julie Aperecho in 1970. The marriage was blessed with 2 children, Neil and Belinda.
He has served as a community volunteer in various capacities with many organizations. He was the recipient of several awards and recognitions. To name a few, he was awarded – Niagara-on-the-Lake Citizen of the Year Award in 1988; Commemorative Medal for the 125th Anniversary of the Confederation of Canada in 1992; Ontario Government's Volunteer Service Award (15 years) in 1992; Her Majesty Queen Elizabeth's Golden Jubilee Award in 2003 and Diamond Jubilee Award in 2013; and, the list goes on and on.
His public service resume is also very impressive. He served his town in various capacities as Councillor, Deputy Lord Mayor and eventually as Lord Mayor of Canada's first capital, Niagara-on-the-Lake in 1994. He was elected with the highest number of votes on record, a phenomenon made even more extraordinary by the fact that he was the first Filipino, the first Asian elected.
An editorial in The Niagara Advance, published in 1988, referred to him as "the quiet man". It states, "Whether as a volunteer working with sports groups or as a member of the Niagara Lions or by encouraging other to help with the Heart Fund, Red Cross or Diabetes Association. Art Viola is the quiet man who has made a noise in volunteer circles. This impact has been felt in the community from the time Art and his family came to the Niagara area in 1967. He is indeed a quiet man but his actions have touched so many lives, enriched them and made the community a better place in which to live." A former Niagara Advance editor once said, "Any good thing Art Viola can do, he does!"